The objective in this workshop is for students to learn the basics, and the fun and freedom of free-form piecing!
Students will bring scraps and strips to share with others in the class so that everyone has a variety of fabrics to play with. I will demonstrate a variety of ways to piece crumb blocks including wonky log cabin, string, and free form. I'll bring my own Crumb quilts for inspiration.

Please come with a basket, a box, a bin, a bag of scraps you've had sitting around! Bring strings (long tapered strips), strips, squares, bricks, trimmings from joining binding on the bias, odd sized triangles, left over binding pieces....in a wide variety of colors! Lights, darks, mediums, prints, solids, batiks, calicoes, bring it ALL!

In addition to your fabric you will need the basics:


Sewing machine in working order (including power cords and extention cords)
Thread, scissors, seam ripper,pins and any other notions you usually sew with.
Rotory cutter, mat and ruler.
I like a variety of rulers, and for crumb piecing, I really love a 6" or 6.5" square ruler. Other ruler sizes I often use are 3.5" square, a 5" square ( This one was a dear jane ruler, and I really like the size of it, but it isn't mandatory....) and a regular 6.5" X 12.5" ruler.
*NOTE* Please also print out the following class instruction sheets. We will be learning many techniques in this class, so the amount of hand outs is large. By printing them yourself, you get them in color,and can look them over before class starts! You will need the following:
Before you print it, you might want to read the following so you can shrink down, reduce paper,save ink, etc!
http://quiltville.com/printinghints.html
During this class we will learn different compositions of blocks! Most can be made without a foundation, however, some blocks work better WITH a foundation, and I use phone book pages because they are thin and tear easily for removal.
We will be working with the following free form blocks:
Simple Crumb Block Assembly:
Squares, rectangles, strips and bits.

Maverick Stars
Maverick Stars work great with all those triangles you trimmed off when joining binding on the bias!
Crumb Hearts:
Template free crazy patch hearts add pizzazz!

L-O-V-E spells LOVE!
Piece a simple word into your crumb quilt! We will free-piece letters to get you started!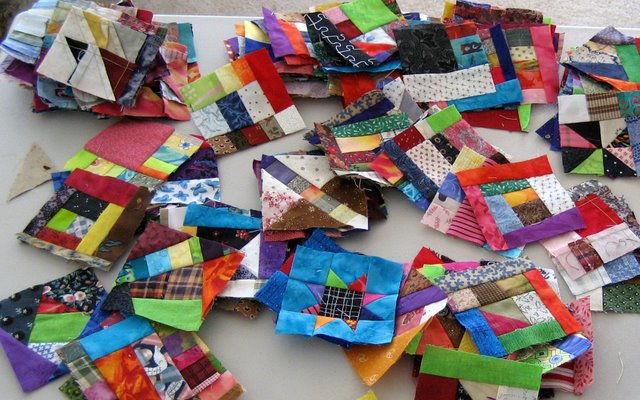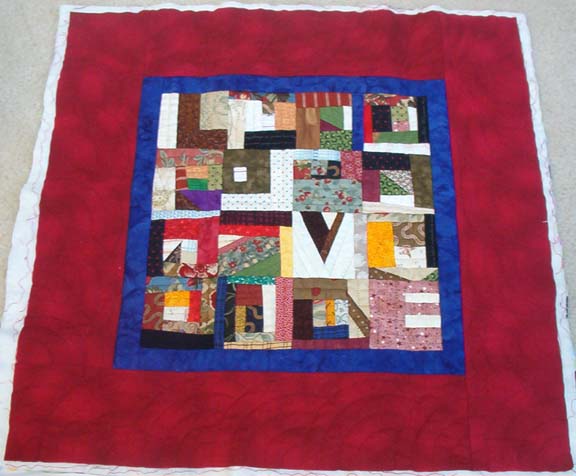 In this quilt "ANYTHING" goes! Use it up, get it out of the scrap stash!
I look forward to scrappy fun with your guild for this workshop!


Questions or Comments? I would love to hear from you!!
Bonnie@Quiltville.com
© Quiltville Custom Quilting.All Rights Reserved. No part may be used, copied or otherwise
altered without express written permission from the webmaster.