The next step requires bigger triangles! I just dug around and grabbed bigger ones from the bin, laid them across the rectangle to be sure they were going to be big enough. Yep!
Following the same proceedure you did for the top triangles, lay a large side triangle over the rectangle...angling it from "somewhere" up on the side...and to the bottom corner.Now sew the remaining triangle with the seam going on the OPPOSING side of the rectangle. Think mirror image here! See the pic in the middle above? Stitch, press, trim to rectangle shape using the edge of the rectangle as a guide. (You can use rotary cutter,but I just trim with scissors. I don't have to get up out of my chair for that!) Trim the excess heart fabric away from the seam allowance.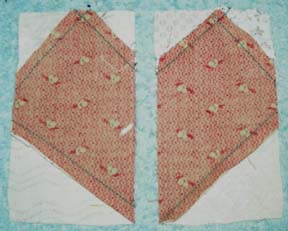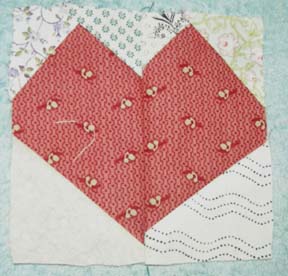 Stitch the center seam and voila!! I don't worry if points don't match..the wonkier the better! I have made these out of two fabrics and they are great too. For instance....red on one half, pink on the other...or stripes! One rectangle with stripes going up and down, the second with the stripes going side-ways..this looks really neat! But my favorite hearts of all??



REALLY CRUMBY!!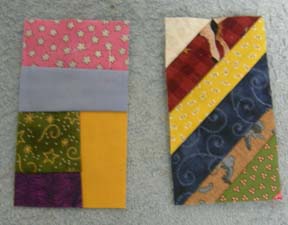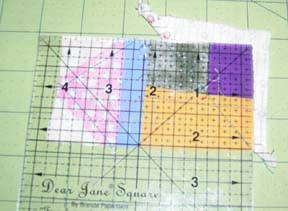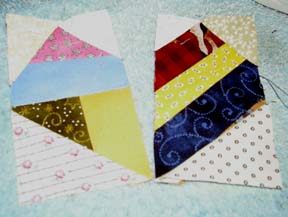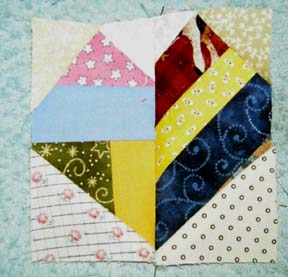 All the steps are the same, I just started with some bricks I cut from some left over crumb /string sections! These hearts are the most fun of all since they all turn out so different!

---

Questions or Comments? I would love to hear from you!!
© Quiltville Custom Quilting 1997-2008 All Rights Reserved. No part may be used, copied or otherwise
altered without express written permission from the author/webmaster.