Internal Server Error
The server encountered an internal error or misconfiguration and was unable to complete your request.
Please contact the server administrator, and inform them of the time the error occurred, and anything you might have done that may have caused the error.
More information about this error may be available in the server error log.
Quiltville Custom Quilting
http://www.quiltville.com
---
Trip Around The World
~Helping Katrina~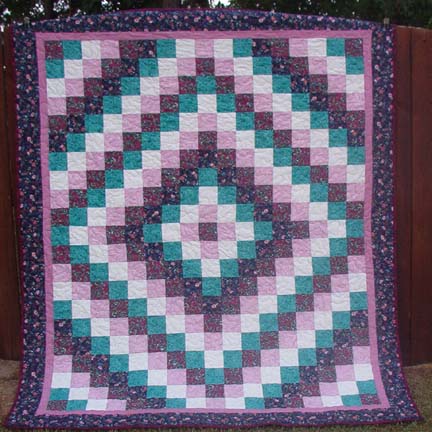 Quilt Size approx 72"X85"

In the aftermath of Hurricane Katrina, so many of us are digging in our hands and sharing our hearts by making quilts for the displaced survivors who have lost their homes, their family, their friends, their everything. I belong to several email lists who are encouraging each other to reach out and share love and hope. Many quilts have been called for, and we are answering that call! I recieved an email from a quilter who stumbled upon the "
Streak of Sunshine
" child's charity quilt that is on this site. She wrote that the Red Cross is asking for twin sized quilts and could she just make four of the streak of sunshine quilts and then put them together for a trip around the world? I did some math figuring and realised that the quilt would be way bigger than the needs, the quilt dimensions just didn't come out right for her to quadruple that quilt, but the idea was there.
This page has moved. Visit our new location at
http://quiltville.blogspot.com/2005/06/trip-around-world.html
---