This is where my instructions may differ from that of other designers. We all have a "unique" seam allowance factor that we can call our own! *LOL* so instead of cursing and swearing at my quilt center trying to figure out why the math looks right on paper,but wrong on my quilt, I use the inner spacer border to get things to fit MY MEASUREMENTS.
You will also be able to do the same thing here, using that inner border to get your quilt center to fit your pieced border.
First step: Measure the Center!
My quilt center is 57.5" X 78.5"
Remember that we subtract 1/2" from each measurement because that is seam allowance. So really, the center for me measures 57" X 78".
My geese are 3" wide, so I need to do some math to figure out how to build up the top so that each side is divisible by 3". Luckily, all I needed to do was add 3" to the above measurements to get what I need. 57 + 3=60. That works for the top and bottom borders. 60 divided by 3 gave me that 20 geese for the top and bottom border. Same with the length of the quilt..if I add 3" to that 78" I get 81. 81 is divisible by 3 and gives me 27 geese for the length of the quilt.
So what do I do with that 3"??
That 3" is the FINISHED measurement we need to add to the quilt center. So we need to divide that in half. 1.5" + 1.5" =3". So we want a 1.5" FINISHED spacer border to go around the quilt center. Add 1/2" seam allowance to that 1.5" and it will tell you we are going to be cutting a 2" strip to frame the center!
Now this is with MY measurements. You will need to measure your own quilt center and figure out what you have to do to make that measurement divisible by 3" to get the border to fit. It could also entail removing a goose or adding a goose. This is where you have to get a pencil and a piece of paper a measuring tape and do some figuring but it is worth it.
Sometimes...just sometimes...this might even mean that your top and bottom spacer borders might have to be cut a slightly different width than your side borders. On point quilts especially can leave you with strange measurements and you might find you are cutting really odd widths of strips to get a pieced border to fit an on-point quilt. That's okay! We just do a bit of math and figure out what we have to do to make that quilt center's measurement be divisble by the repeat in the border units (In the case of these geese..it is 3")
Adding the borders: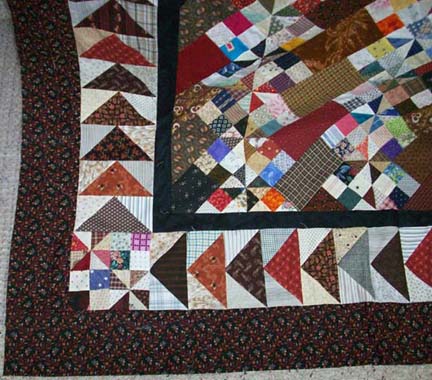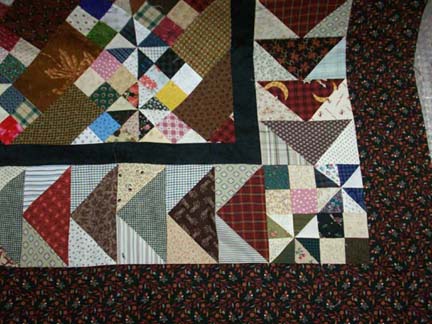 Measure through the center of your quilt from top to bottom. Cut two inner size borders this length. Stitch to quilt center with right sides together, pinning centers and end points and easing where necessary to fit. Be careful. You might find it better to sew with the quilt center against the feed dogs to easy in any weight or fullness from the edge being cut on the bias. Press seams towards the borders just added. Measure across the quilt center from side to side and cut two inner borders this measurement, one is the top, one is the bottom. Attach to the quilt top and bottom in the same way you did the sides, pinning to match centers and ends,and easing where neccessary to fit. Press seams towards the borders just added.

Stitch the two long 27-Geese borders to the quilt sides. The geese chase each other AROUND the quilt, so pin them on so that the left side of the quilt has the geese pointing up, and the right side, pointing down. See pics above!

Press seams towards the inner border.

Add remaining top and bottom 20- Geese borders in the same manner. Press.

Final Border:
I added a 5" cut (4 1/2" finished) border to frame everything and to give the eyes a place to rest after all that busy-ness in the center!

And this is where I tell you to "Quilt and Bind as Desired!!" Mine is still waiting for quilting, and it might be a while before I get to that point!