Internal Server Error
The server encountered an internal error or misconfiguration and was unable to complete your request.
Please contact the server administrator, and inform them of the time the error occurred, and anything you might have done that may have caused the error.
More information about this error may be available in the server error log.
Quiltville Custom Quilting
http://www.quiltville.com
---
Double Delight!

~A Quiltville Mystery Quilt~
(Click here for printer friendly version)
©Bonnie K Hunter 2008


New Years Eve Mystery, Anyone??? :cD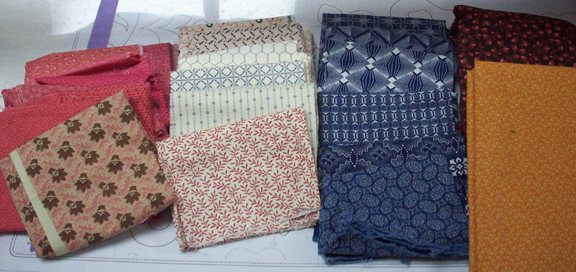 I know it's nuts. This is the way my life is.......short notice, always on the go, always deciding to do something at the craziest time. "Hey....let's do a mystery!"
I'm working on quilts for the next book, as you know, and there is one that I just

KNOW

you will love. This is a color controlled mystery so you can choose your palette.
The quilt center finishes at approximately 63.5 X 76.5 .
The colors I am using? Double pinks, shirtings, indigo blues, and a deep chocolate brown with some pink in it, and....some cheddar /gold! :cD Yes, I'm going to the strip bins first for my lights and my pinks and blues....they can be scrappy. The brown and the gold will be uniform yardage to pull every thing together.
Are you game? If you want to join in on the online-fun too (but be prepared for A LOT of email!) You can join my yahoogroups list HERE.
The list has places to upload pics of fabric choices, projects in progress, and the list members are a great help to each other while working out the ins and outs of quilting projects! Come join us! And note..you can always set yourself to "digest format" or "no mail" and read the posts online if you don't want your inbox flooded :c)
This is going to one of those mysteries where I post the steps as they are ready.....my life is going to get crazy starting mid January and who knows when it will slow down, so I can't plan it like "post one step every two weeks". It just doesn't work, but you know what? It isn't a race, and you can just go at your own pace. Leave it for 2 weeks if you want to, and come back to it. I will be posting the steps as I am able to finish each one myself!
The mystery will remain online until it is time to publish the book, at which time it will be retired from online availability.
Couldn't you use some Double Delight in your life right now?
Come on! You know you want to!


Yardage Requirements!

This is what I calculate, and it IS generous. My main color is the pinks, and I have added in an extra yard in case I do something with it for the border. So you will need approximates of the following:
Double Pinks

(scraps, strips, FQ's, yardage or a combination of all)

3 yards
Indigo type blues

(can use several)

3/4 yard
Dark Chocolate Brown

(1 piece of yardage, but you can split it into several if you want..I'm not :c)

1 1/2 yards

(more if you want to use it for binding)
Gold/Cheddar

(1 piece of yardage,but you can split it up into other fabrics of the same color family if you want as with the brown above)

1 yard

.
Like I said, I'm not sure what I'm doing with borders for you yet.....which could increase any of the above measurements. All fabric is found in my stash. Try to get the majority of your fabrics from your own stash too!
If you are not in love with this color way, the law of substitution applies. Change the pink for red, or the brown for green, or the gold for purple...
I have already dug through my 1.5" strips (Oh! A HINT!) and didn't find enough of the lights and the pinks so I"ll be cutting more from FQs.....I'm looking for partial FQs in my FQ drawer, older ones I want to clean out, some new ones I'd love to get into and some in between.....cutting extra to fill my strip bins back out. There is an idea for you!
This quilt will have only TWO different pieced units! It's the shading of the different units that makes the design come together! There are some un-pieced units too, that makes it easy....
CLICK HERE FOR STEP ONE!!

---