Quiltville

:

Home

About Bonnie



E-mail Quiltville

Sign My Guestbook!

Trunk Shows & Workshops!
(class supply lists here too)

Contract

Quiltville's Calendar

Visit My Daily Blog!

Live QuiltCam!


Quiltville Friends!


Quiltville's Book Store:


Quiltville's Book Store: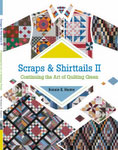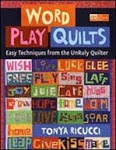 Errata:
Book Corrections

Do You Inklingo?

Quiltville's Miscellany:


Netherlands, 2006!
How Many Quilts?
Ponderings by Bonnie

Behind Her Scrappy Mind
A Quilter's Prayer
The Quilt That Love Built
Quilter's Will & Testament!
Quiltville's Vintage Machines!
My Earlier Quilts:


Bed Quilts
Small Quilts
Quilts for Charity
Tips & Techniques:


Backing Yardage Charts!
Bed Size Chart
Before You Print It!
Bias Binding Cutting
Binding Hints
Border Hints
Bonus Triangles!
Cutting Squares from FQ's!
Cutting Squares from Yardage!
Cutting Quarter Square Tris!
Freehand Baptist Fans!
Folding The Stash!
Hexagon Tutorial
That Quarter Inch
Leaders & Enders
Mitered Border Chart
My Favorite 1/4" Guide
On-Point Settings
On-Point Sashing Chart
Straight Set Sashing Chart
Paralyzed By The Stash?

Scrap User's System
Scrap User's Testimonials!
Spin The 4-patch Seams!
Square in Square Tutorial
Square in Square Chart
That Quarter Inch!
Webbing The Top
Mystery Quilts:
Celtic Solstice:
All Parts Linked
HERE
Orange Crush!
Intro
Part 1
Part 2
Part 3
Part 4
Part 5
Part 6
Old Tobacco Road!
Intro
Part 1
Part 2
Part 3
Part 4
Part 5
Double Delight!
Intro
Part 1
Part 2
Part 3
Part 4
Part 5
Part 6
Part 7
Christmas Lights!
(Quiltmaker Magazine Re-do!)
Part 1
Part 2
Part 3
Quilts Journeys:


Dear Jane
Dear Jane at Sea
DJ Storm at Sea Sashings
Hexagon Medallion
Nearly Insane
Scrap Quilt Patterns:


Basket-weave Strings
B
oxy Stars
Bricks & Stepping Stones
Cathedral Stars
Cheddar Bow-ties!
Chunky Churndashes
Crayon Box
Crumbs, Crumbs Crumbs!
Crumb Hearts!
Dancing 9-Patch
Diamond Strings
Florabunda
Four-Patch & Furrows
Fourth of July

Fun With Bricks
Guilford County Block
Happy Scrappy Houses
Hidden Pinwheels
Hidden Spools
I Spy A Four Patch
Jared Takes A Wife
Little Monkey
Kiss in the Corner

Maverick Stars
Millennium Pyramids
My Blue Heaven
Nine Patch Split
Ocean Waves
Ohio Stars & Rails
Oklahoma Backroads
Out On A String!
Patches & Pinwheels
Pineapple Blossom
Pioneer Braid Borders
Playing With Jacks
Princess Crown
Random Ohio Stars
Road To Camp Gravatt
Scrappy Bargello
Scrappy Mountain Majesties
Scrappy Trips Around World
Simply Strippy
Sister's Choice
Smokey Mountain Stars
Spiderweb

Split 9-Patch

Spoolin' Around Blocks
Star Struck
Story-Time Stars
Streak of Sunshine
String Quilting Primer
String-X
Strip Twist
Trip Around The World
Weed Whacker!
---
Quiltville Custom Quilting
http://www.quiltville.com
---
Crab Apple Tree Base Tutorial
(Click here for printer friendly version)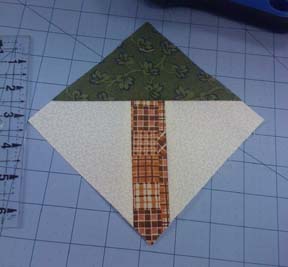 Welome to the Tree Base Tutorial! If you have ended up here, you must have followed a writen link in my book
"Adventures With Leaders & Enders!"
While writing the book, my editor and I decided that we would rather include more patterns in the book, instead of "waste space" putting in basic tutorials, her thought being that anyone purchasing the book would likely have a basic knowledge of quilting before they bought it. Paper piecing instructions can take many pages if you are giving them step by step with illustrations, so to save space and leave more room for other patterns I came up with the idea to put this basic paper piecing tutorial here on my website.
If this is your first visit, I hope you will also take some time to click the links to the left and wander your way through Quiltville! There are many free patterns as well as other hints, helps and techniques on my favorite subject - - - Scrappy Quilting!
So, here we go!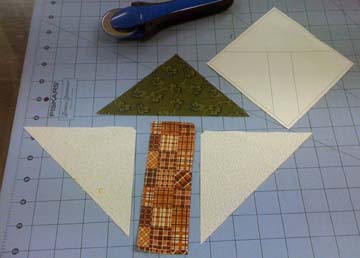 Along with your paper peicing pattern that can be copied from the book, you will need two large background triangles, one green tree base triangle, and a trunk! I tend to cut my paper piecing parts fairly large, and they will be trimmed down as we go. I've had them fall short enough times while trying to "save fabric" that I finally decided that this was where I was going to leave myself more wiggle room!
For Trunk: From a 2" wide strip of brown, cut a tree trunk approximately 5.5" long.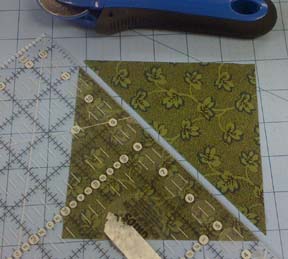 For Tree Top: Cut a 5" square of green on the diagonal from corner to corner, yeilding 2 tree bases.
For the background things are a bit different. The straight of grain needs to go on the long edge of the triangle, so this is where I pull out my trusty Companion Angle Ruler.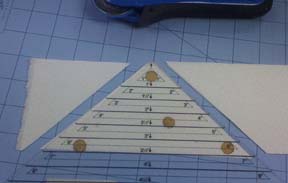 The brown dots are sand paper dots I've placed to help keep the ruler from slipping.
I like to cut through at least two layers at a time, so this 3.5" strip is doubled over with right sides together. Place the 3.5" line along the bottom of the background strips and trim as shown. Each tree base requres two of these triangles.
If you don't have a Companion Angle Ruler, you can cut one 6.5" square, and cut it from corner to corner twice with an X to yeild 4 background triangles. Remember they are big to allow for trimming. The tree base will FINISH at 5" when it is sewn into the block/quilt.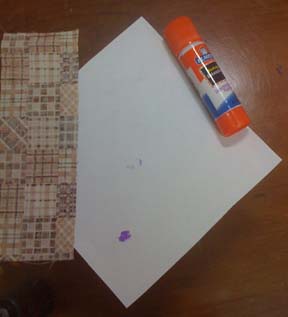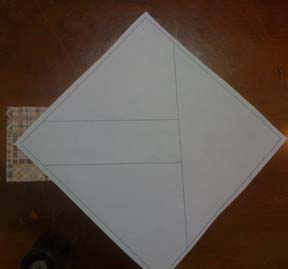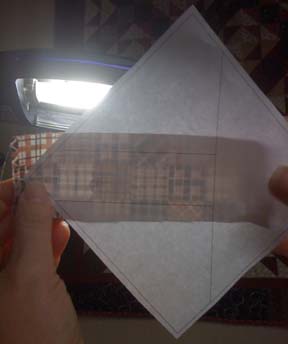 I like to use a glue stick to position my first piece. Some people pin, but I find the pin buckles the fabric and the paper, and just a couple dots of a glue stick (shown in purple) are enough to keep the first piece, the trunk, from shifting.
When we are paper piecing we are working with the lines on the paper toward us, and the fabric with it's wrong side against the back of the paper. It's like working upside down, and can take a bit to wrap your mind around, but stick with me. See how you can see the fabric through the paper when holding it up to the light? This is how I check for proper placement. Put some glue dots on the unlined side of the paper, where the trunk will be positioned. Lay the trunk wrong side up on a flat surface, and then lay the paper pattern on top of it, being sure that you have at LEAST 1/4" beyond the lines, and beyond the block corner. Give it a good finger press to be sure glue holds you there. Hold your block up to the light as shown in the 3rd pic to be sure you are not falling short where the lines are.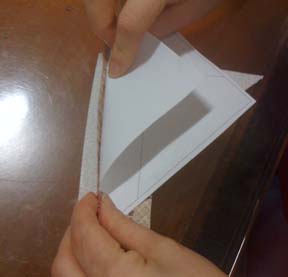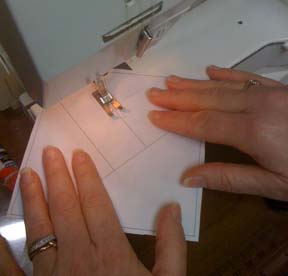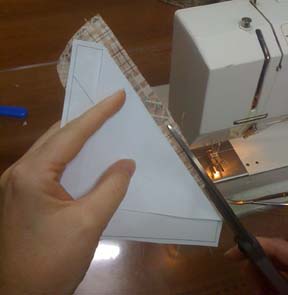 Now, take a background triangle, find the way it is supposed to lay AFTER you sew it...and carefully flip it right sides together with the tree trunk. You can check placement by holding it up to the light again.
Before we sew, I want to give you a couple hints. When paper piecing, I like to use a denim sized needle. (a 14 is good.) I also set my stitch length very small, about a 1.5 on my Bernina. The larger needle makes bigger holes. Putting those holes very close together means the paper will be easy to remove. Most people who I've taught who have had trouble find that it is because their stitches are too long and the holes too far apart. Give it a try!
The second picture above shows me stitching ON THE LINE with the fabric pieces underneath. Start your stitching 1/4" before the block outline so the stitching will go all the way to the edge of the trimmed block. When this seam is sewn, fold the paper back, and trim the seam to 1/4" after making sure that your background triangle extends beyond the edge of the block when pressed. I use my scissors a lot to trim. I find it is faster to trim with scissors like this, than to take time to lay it flat on a cutting mat, align the ruler, grab the rotary cutter, etc. An eyeballed 1/4" is fine, it is the seam that is important here, not the allowance.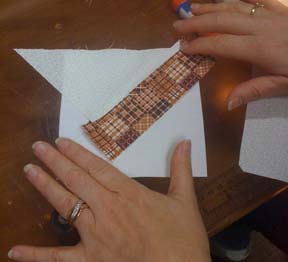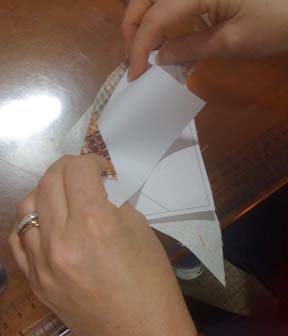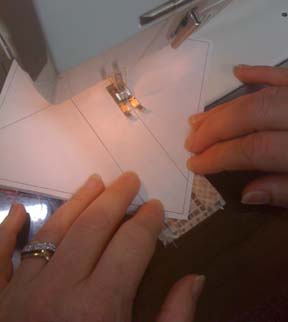 The first picture shows the first background triangle pressed out. The second picture shows me lining up the second background triangle before stitching. I watch the line on the paper, and try to eyeball it 1/4" down from the edge of the background triangle that is laying in position on the machine bed. Make sure you don't fall short, but you don't want to fall too long either!
The third picture is sewing right on the line, with the pieces in position. You can't see it, but my stitching starts about 1/4" beyond the line for the tree base that goes across the top of the trunk, and extends 1/4" beyond the paper where the line ends.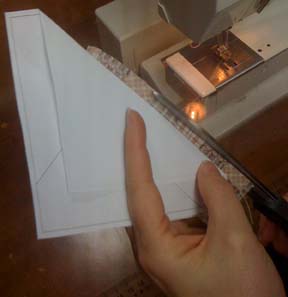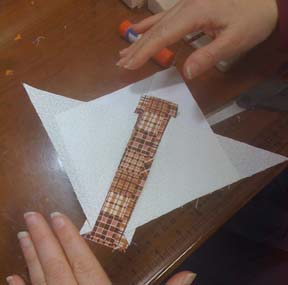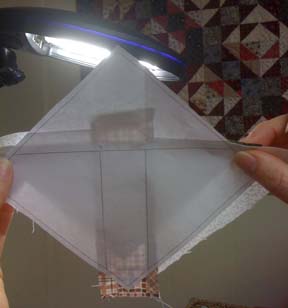 Fold the paper out of the way, and use scissors to trim excess seam allowance from the seam, just aiming for an approximate 1/4". Press both background triangles out toward the edge of the block. The third picture shows me holding the block up to the light to check position of the block base triangle....I'll be sewing on the line on the paper, but the triangle is right sides together with the trunk so that when I flip it out, it will cover the remaining place on the paper template.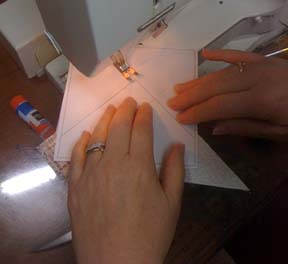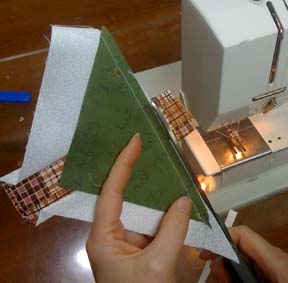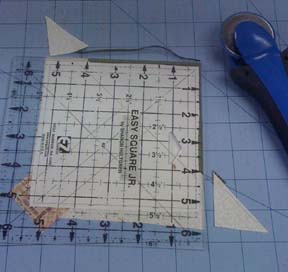 Sew that last seam attaching the tree base to the trunk! Fold the paper out of the way, and trim that last seam to an approximate 1/4". Press the block well! I like to use a ruler that has a good 1/4" marking all the way around the outside edge of the ruler. I place that 1/4" seam line on the edge of the block line on the paper...and trim 1/4" beyond the line, going up the right side first (I'm a righty) and across the top, trimming off that excess. Then rotate the block and trim the remaining two sides.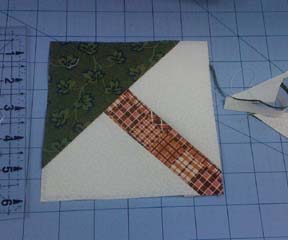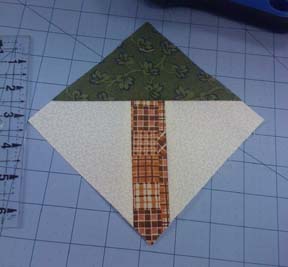 One tree base down! At this point, it's up to you how many you will make! Carefully remove the paper from the back of the block, and proceed to add your checkerboard parts to the top of it to complete your own Crabapple Orchard!
---
---