This full sized quilt uses plaids salvaged from thrift shop shirt purchases! The lights are various neutrals that I had in my 2.5" strip bin. Random lengths of 5" plaid strips made for a fun pieced border!
I used ONE common red fabric for the accent triangles. There are 80 8" blocks set 8X10! Quilt center is 64X80 before borders.
Please keep in mind that this is a "scrap quilt" workshop and you are meant to use your stash! Since our scraps are all different shapes, lengths and sizes, fabric amounts are guestimates, no exact yardage is given.
In addition to the supplies below, I need each student to print their own pattern directions as found on my website here:
Study the pattern to help you with your fabric choices and color placement! Please be mindful of those who do not have computer or printer access!
General Supplies needed:
Sewing machine in working order (including power cords and extention cords) Don't forget your bobbin case, and your 1/4" foot!
Thread, scissors, seam ripper,pins and any other notions you usually sew with.
Rotory cutter, mat and ruler.
Lap Size: (30 blocks set 5X6)
Fabric supplies:
This quilt is made from pre-cut 2.5" strips! Please come with your strips already cut. Yardage amounts are for lap quilt size. If you go bigger, plan accordingly!
*If you are making the lap quilt size, plan on approximately the equivalent of 2 yards of background fabric, 2 yards of 'dark' star fabric, and if you want a distinct accent fabric for your corners (Shown as red in the quilt above) bring 1 yard. Extras can be used in the inner border and/or binding.
Optional Cutting:
We will be cutting some of your strips of background fabric and accent fabric into 2.5" squares. Each 8" block uses 8 2.5" squares of background, and 8 of accent. You can have these cut ahead of time if you would like to jump the gun. For the lap size you will need 120 light 2.5" squares and 120 accent 2.5" squares.
*If using ONE background fabric, (As shown in the black/brights version below) plan on about 23 2 1/2" strips cut across the width of the fabric, selvege to selvege. Depending on the length of your colored strips, (and the amount of waste you may have from the ends of odd lengths of scrap strips) you will need approximately 13 to 15 strips to cut the main block 'star quarters' . The other 8 strips are set aside to cut the 120 2 1/2" squares you need for the block corners. This is an average due to the differences in fabric width, the amount you might get per strip might vary.
For a quick baby quilt, try setting 25 blocks 5X5 for a quilt that measures 40" square before borders.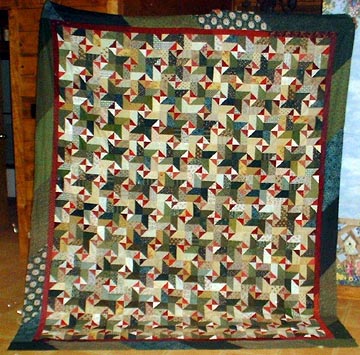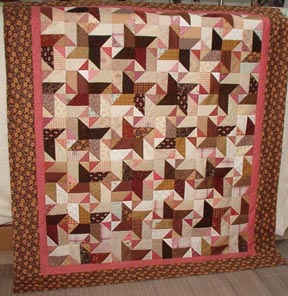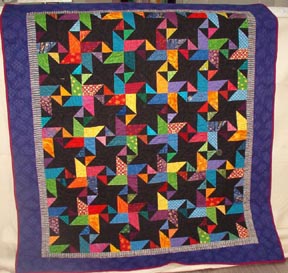 You may decide to do this quilt in a planned 2 color scheme such as the full quilt above...green/neutral for the star points and red as the accent, or see the other versions shown for ideas. (think blue/yellow....orange/purple....red/white/blue,etc) This 'brights' version uses an all black tone on tone print for the 'background' in place of the scrappy lights above.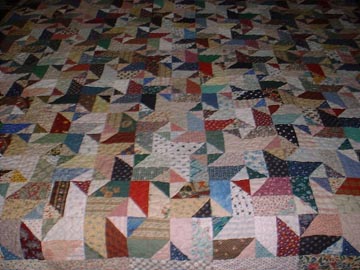 Don't forget you can do this quilt totally scrappy, just separating lights and darks! No accent fabric required!
If you have any questions about the supply list or instructions, please don't hesitate to email me at quiltville@gmail.com! I really look forward to this workshop with you!

---

Questions or Comments? I would love to hear from you!!
Bonnie@Quiltville.com
© Quiltville Custom Quilting.All Rights Reserved. No part may be used, copied or otherwise
altered without express written permission from the webmaster.