Continue to add strips in this way to fill the triangles completely! The great thing about spiderweb blocks is you can use your smaller crumbs towards the points of the triangles! Here are 4 foundations covered. They look messy! But just use your rotory cutter and ruler to trim them up even with the paper foundations. I like to sew four block quarters in every "sitting" because it gets me up and out of my chair to stretch a bit while I trim. When trimmed, remove the paper carefully from the block quarters.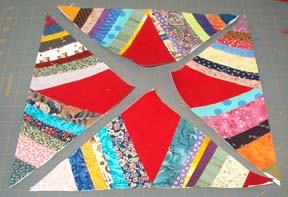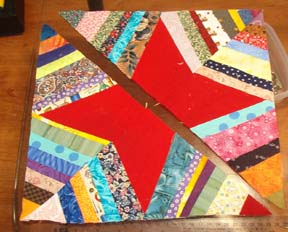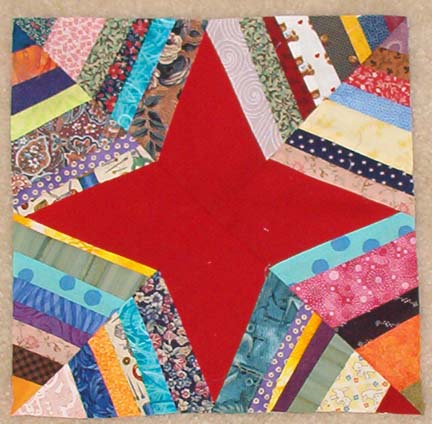 This is one completed block! The circles will appear when you place the blocks side by side. Make as many blocks as you want to make the quilt the size you want it to be! My first spiderweb had a dirty pink background that is very hard to photograph! It just looks BLAH in photos, but it looks so much better in real life! Here are some pics I took of the construction process:


This is 2 rows of 7 across! See the circles appearing? My son called this "The Pizza Quilt!"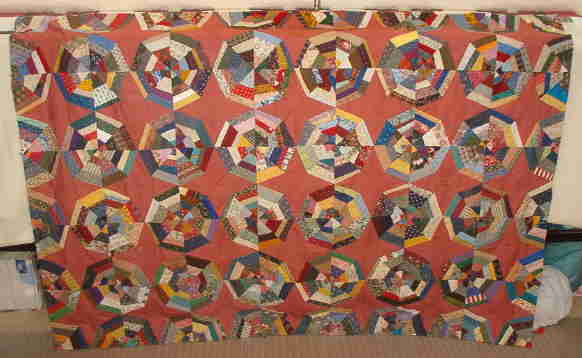 5 rows of 7....that pinky color is still not photographing right!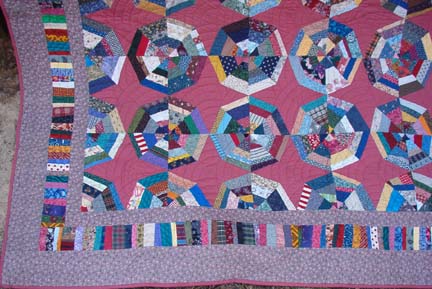 This pic was taken outside on a cloudy day...now it looks VERY pink, and it's not this pink in reality either! But this gives you a close up of the border fabric, and the fun strippy inset border that finished it off.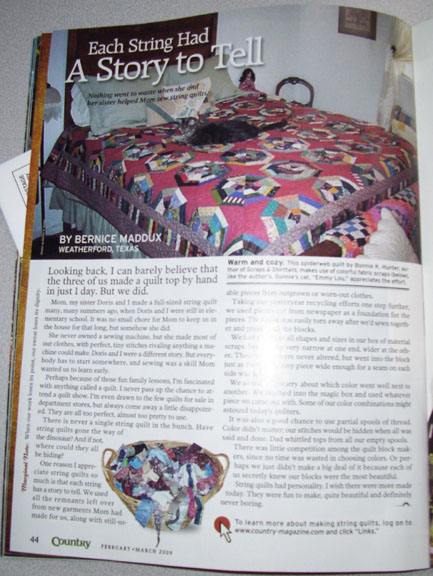 Jan 2009: A couple months back I got a phone call from an editor at Country Magazine asking if I could supply her with a picture of a string quilt to go with an article that someone had written. Could I EVER!!

What came of this was a very fun email exchange, some phone calls, and me doing a photo shoot to get things "just right". I did shots in the yard, on the porch swing, and of course in the guest room. I even sent her a pic of my overflowing wicker laundry basket of scrap strings.

I am so tickled with the story that goes with the pic. It's perfect. And there in the middle of the pic for all the world to see is my Emmylou (also called Louisa, and LuLuBee)like she owns the bed AND the quilt (which she does)

There are a lot of old spiderweb quilts out there! I'm always looking for fun tops and pictures for inspiration.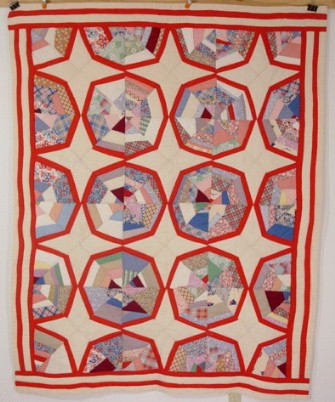 This one has a great striped border.....she used muslin kites, and a solid red strip on either side of the kite before filling in the remainder of the block quarter triangles with what was in her scrap bag. Great old quilt!