Small Quilts are a favorite! They cover walls, tables, chairs, couches, you name it!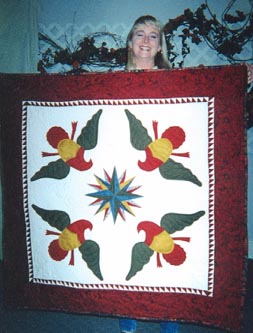 ---

January, 2008:
This Little Crumbie has been a top for quite a while, and the hand quilting had even been started on it, but way laid. It was the perfect size (26"X31") for me to take as a hand project while travelling to Houma, LA to teach two workshops! I actually finished it on the plane on the way home! I just love the visual play between the multitude of odd scraps and pieces and the colors. Wonky Wonky and lovin it! Thanks to Tonya's Tutorial, I hand quilted these fans without marking them! Whooowhooo! Wonky Rules! The blocks finish at 4.5".Close up pic!
---

October, 2007: Out On A String!! I foundation pieced these little gems onto diamond shapes cut from recycled phone book pages. I also used the old fashioned tried and true method of using inset Y seams to sew this block together. I know there are "easier" methods out there, but I just didn't want additional seams in my block corners or in the side triangles. Sometimes a bit of extra effort is worth it! Quilting detail Fun "crabby" fabric on the back to suit the mood I was in that day! *LOL*
---

August, 2007: I'm
Playing With Jacks
!
I love to play with simple blocks! The asymetrical 9 patch layout of this easy block gives plenty of opportunity for playing with various layouts!
This little block is known by many Names! Jacks On Six, Double X, Old Maid's Puzzle, Cat's Cradle, and Three And Six just to name a few! Quilting Detail! Fun Toile for the Quilt Back!
---

May, 2007: Nine Patch Split! I love to take out my precut scrap squares, triangles, bricks and lay them out just as if I were playing with building blocks and see what strikes my fancy. I made this quilt for my youngest sister who is expecting her second child, a boy, any day now! (yes, I am rushing to get the label on and the quilt out the door before his arrival!) Close up! Quilting Detail!
---

November 2006:
I finished hand quilting this Scrappy Jacob's Ladder over the long Thanksgiving weekend on Hilton Head, Island, SC. Yes! MORE baptist fans! I took advantage of the early morning light coming across my kitchen table to get a pic that would show the quilting detail.
This is a small scrappy quilt. The blocks are 6". The finished dimensions after quilting (and before blocking) are 31"X31". The 4 patches were left over (many years left over in a baggie!) from a quilt I made for my nephew when he was born. The 1/2 square triangles are also random leftovers from other projects. It was fun to throw the scraps together without any thought other than light/dark and let the colors fall where they may! :c)
---

Still in love with string quilts! I made this little
Crazy Amish Strippy
out of leftover small pieces of solids I'd been saving for a while. I am greatly inspired by Gwen Marston and her Liberated Quilting. I hand quilted this quilt in an attempt to find quilting time in between clients! I am working as a massage therapist and love it....still have to keep the quilting going for sanity's sake, so a bit of hand quilting keeps it all going.
Close up shot
.
---

"
The Best Things In Life Are Quilted!!"
has been my motto for over the past 10 years. After my friend Tonya got me hooked on free-piecing letters and words without patterns, I decided I needed to put my favorite slogan in a quilt. The slogan and my name became long strips without a project to attach them to until I decided to make this little crumbs and leftovers quilt. The borders included tiny 3" evening star blocks that were set aside from another project, as well as a flying geese border section that didn't work for another quilt. There are even a few orphan "Dear Jane" blocks included. This was a very fun quilt to make, and yes, I still love hand quilting!!
Close up #1
Close up #2
---

August 2005: Midterms are over! I have 3 months....12 weeks....of school left! YES! It has been such a hectic time that I haven't been able to really concentrate on tedious piecing, but felt the need to be sewing something mindless and brainless. I made these little string blocks out of left over snippets accumulated from trimming scraps down to strips and squares and bricks. These little blocks finish at 3.5" square! I named this quilt Midterm Mayhem because that was what my life was like at the time I was piecing it. I machine quilted it, placing a plume in every square, following the direction of the pink X's formed by placing a pink strip down the center of each block. I used a variagated rayon thread called "horizon". Perfect name I thought, since the end of school is on the horizon! Close up pic.
---

Not really small, not really bed quilt? I'll put it here anyway! I made this snuggle quilt for my friend who is undergoing chemo. This was my attempt at playing with 'bricks' in a layout I had in my mind. It didn't turn out quite the way I had envisioned, but I like it, and because of playing with this I've got more ideas to do a different variation! I love things that open the doors to other options. Keeps things interesting! I call this quilt Brick Bowties. Made with 2" strips, 3.5" squares, and 3.5"X6.5" bricks. Close up pic.

---

July 2005: Sometimes ideas for big quilts end up as small ones when you lose the energy to keep going on them! A friend sent me a pic of a 9 patch quilt made in the 1870's and it had this poison green background and lots of madder browns in it. I loved it! I really wanted to make a bed sized quilt, but these 9 patches are only 3" and I got either bored with them, or intrigued by something else. I came across them and decided to just put them together making the quilt as big as the number of 9 patches I had done would allow. I tried a new quilting technique on this quilt, known as "flurry of angels" as it was supposed to be swirly freeform feathers quilted over the quilt surface. I kept quilting myself into corners with nowhere to go! So I am calling this quilt
"Broken Wings"
instead of "flurry of angels.
Close up
of quilting.
---

July 2005: My DH and son have been installing laminate flooring downstairs. It's a war-zone down there! I retreated this weekend to the quilting room and loaded a top into the quilting machine that I had finished a while ago. It's a 1/2 log cabin design. I'd done other log cabins before, but never played with 1/2 log cabins. I tell ya...these leave too many logs to match up! From now on I'll either stick with purposely liberated and wonky, or stay with the kind where the logs go all the way around the center square instead of just being on two sides. That said, I do like how this turned out! I set the blocks in a pin-wheel design and called it Whirly-gig Logs! Here is a pic of the quilting in progress. And a close up hanging on the fence outside.
---

July 2005: My baby sister Mary is having her first baby! And it's a pink one! :c) I made her a sampler baby quilt using some blocks I had won in a block lotto with my online quilting group. Fun to have little girls to sew for! I'm not sure on the spelling, but Mary and Kelly are planning on naming their daughter Mackenzie.
---

June 2005: It's been a while since I have added anything SMALL to this page! I have been making some smaller quilts, but just have been VERY BAD at getting them uploaded. I hope to correct that.....at least on the ones that I haven't given away as gifts! I've been in love with "liberated quiltmaking" ala Gwen Marston lately. Just LOVE the freedom! Here is a pic of a Liberated Log Cabin that I made with random width strips from my string piecing bin. I love purposely crooked! how can you go wrong with that? :c) I hope you can see the machine quilted baptist fans. A big favorite of mine. I'd hand quilt everything with baptist fans too, if I had the time, but I don't!

---

June 2005: I was in the mood for something patriotic since 4th of July is getting close. These framed 9 patch blocks were leftovers from my red & yellow 9 patch quilt. I sashed them and added cornerstones, set them with an old fashioned soldier blue and added borders. You can't see it, but I used a flag fabric on the back and quilted it with MORE baptist fans :c)

---

My friend Lucy from Haarlem in The Netherlands showed me a wonderful replica of an antique doll quilt she was making, and I just HAD to do one too! I had this orphan fleur d'lis block laying around forever (the red fabric was not very needle turn friendly!) and it worked perfect as the center for my own replica of an antique
Dutch Doll Quilt
. Here is a pic of the
machine min-fan quilting
in progress. Because the thread had to cross so many colors, and the lines are only 1/2" apart, I used clear thread for the quilting and really like the results.
Lucy's doll quilt
.
---

February 2005: (I THINK!) I had these little scrappy 4 patch blocks that I had strip sewn from 1.5" strips. I think I must have made a gazillion of them, because they are showing up in lots of projects lately! I made this
Baby 4 Patch
doll quilt with them going for a very old fashioned feel and hand quilted it in a cross hatch grid. The quilt measures 19-1/2"X23-1/2"
---

February 2005: On a roll to use up leftover blocks, I found I had enough of these
Baby Birds in the Air
blocks to make a small wall quilt. I also hand quilted this one in a grid, the simplest way to avoid all the seams where the tiniest triangles intersect. Quilt measures 22"X22"
---

February 2005: A long time UFO gets quilted and bound! I've had this
Pineapple Swirl
top done for a LONG time. It was a quilt retreat project from when I lived in Texas. I was using up EVERYTHING thing in this top, paper piecing the blocks from my scraps, even using the uglies. It got to be a joke when I would pull it out to work on it at yet another retreat day, and the other quilters would hand me their uglies and DARE me to use them up in this quilt! I've got christmas fabrics in here, halloween fabrics, lovely fabric (??) from the 50's and 60's, even a piece of "VW bug" fabric with mod flowers that came from a girlfriend who was making her teenage daughter a quilt with VW bugs on it. EVERYTHING went into this quilt! Pic of
quilting detail
. I used 3 leftover blocks and leftover border in the
back
!
Close-up
shot of weird fabrics!
---

After loving how the fans turned out on the Home-Spun Stars below, I had to do it again on something else! I had made a bunch of 6" paper pieced blocks with my beloved civil war reproduction fabrics.
25 blocks
done and I was at a stand still! What ever made me think I could make enough to make this a bed sized quilt? I had lost momentum and decided enough was enough. I sashed the blocks and bordered the quilt and played with more fans for the quilting. I call this one
Civil War Criss Cross
.
---

March 2004: I participated in a birthday block swap with an online quilter's group. We got to choose the block we wanted and any fabrics/colors they should use. Blocks were sent to their recipients for their birthdays! What a fun swap! I chose 9" Ohio Star blocks in plaids and homespuns, with muslin as the background.
Homespun Stars
is the result of this swap! I had just recently purchased a circle maker for my longarm machine and I did my first
baptist-fan quilting
on this quilt.
---

December 2003: I'm going to be an Auntie again! I made another String-Along-Stars baby quilt for my Brother and his wife Jenny, while waiting for
Baby Lucy
to arrive!
---

December 2003: In a creative burst, I pulled out these leftover blocks from my
Puss-in-the-corner Strippy quilt top
. I laid them out, and I was only short two blocks to complete them into a wallhanging! It felt good to be able to throw something together for an instant fix. Sometimes....it's good to have UFO's laying around?
Puss-in-the-corner Wall Quilt
---

October 2003: My baby sister got married! Boy does THIS ever make me feel old, since Mary and I are 20 years apart :c) (So I'm sure this makes mom feel even OLDER since Mary was the baby of the family!) I made this
Scrappy Churndash Quilt
specially for Mary to use as a table topper in her new home. I used many reproductions of civil war fabrics, and love the warm dark colors.
---

While at Quilt Market in Houston, I picked up some imported Indigoes from South Africa. Oooooo I love these! They are AWESOME! They are stiff at first, until you wash them. Then they become very soft. They make the most beautiful blue and white quilts. I made this mini churn dash quilt just to get my feet wet using them. I called this quilt
Indigo Blues
.
Close-Up of Indigoes and Shirting Prints.
---

I made this
Patriotic Triple Irish Chain
as a display quilt for Common Threads Quilting in Waxahachie, Texas. It is shown hanging over my mantle in my family room
---