General Supplies needed:
Please print out the quilt directions from the Quiltville.com website here:

http://quiltville.com/scrapbargellopf.html


Each student is responsible for bringing their own pattern with them!
Sewing machine in working order (including power cords and extention cords) Thread, scissors, seam ripper,pins and any other notions you usually sew with.
Rotory cutter, mat and ruler. A LONG ruler is also helpful. My favorite sizes are 6.5" X 12.5" and 6"X24"
We will also need ironing stations, and a large cutting table at proper height is helpful.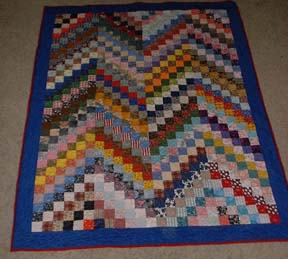 The quilt center will measure 48X64 without borders.....
Fabric Pre-Cutting:
For the lap quilt you will need 128 2-1/2"X16" strips in a good variety of lights, mediums and darks.
You can get several strips out of a Fat Quarter...or you can dig through your scraps and cut what you have got into useable sized pieces. This is what I did, because I was using up *odd ball* stuff.
The leftovers from trimming the strips to 16" lengths can be saved for other scrap quilts...like 4 patches and 9 patches!
In this quilt "ANYTHING" goes! Use it up, get it out of the scrap stash!
I look forward to scrappy fun with your guild for this workshop!


Questions or Comments? I would love to hear from you!!
Bonnie@Quiltville.com
© Quiltville Custom Quilting.All Rights Reserved. No part may be used, copied or otherwise
altered without express written permission from the webmaster.