Quiltville

:

Home

About Bonnie



E-mail Quiltville

Sign My Guestbook!

Trunk Shows & Workshops!
(class supply lists here too)

Contract

Quiltville's Calendar

Visit My Daily Blog!

Live QuiltCam!


Quiltville Friends!


Quiltville's Book Store: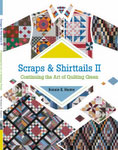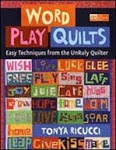 Errata:
Book Corrections

Do You Inklingo?

Quiltville's Miscellany:


Netherlands, 2006!
How Many Quilts?
Ponderings by Bonnie

Behind Her Scrappy Mind
A Quilter's Prayer
The Quilt That Love Built
Quilter's Will & Testament!
Quiltville's Vintage Machines!
My Earlier Quilts:


Bed Quilts
Small Quilts
Quilts for Charity
Tips & Techniques:


Backing Yardage Charts!
Bed Size Chart
Before You Print It!
Bias Binding Cutting
Binding Hints
Border Hints
Bonus Triangles!
Cutting Squares from FQ's!
Cutting Squares from Yardage!
Cutting Quarter Square Tris!
Freehand Baptist Fans!
Folding The Stash!
Hexagon Tutorial
That Quarter Inch
Leaders & Enders
Mitered Border Chart
My Favorite 1/4" Guide
On-Point Settings
On-Point Sashing Chart
Straight Set Sashing Chart
Paralyzed By The Stash?

Scrap User's System
Scrap User's Testimonials!
Spin The 4-patch Seams!
Square in Square Tutorial
Square in Square Chart
That Quarter Inch!
Webbing The Top
Mystery Quilts:
Easy Street!
Intro
Part 1

part 2
part 3
part 4
part 5
part 6
Part 7
Part 8
Orange Crush!
Intro
Part 1
Part 2
Part 3
Part 4
Part 5
Part 6
Old Tobacco Road!
Intro
Part 1
Part 2
Part 3
Part 4
Part 5
Double Delight!
Intro
Part 1
Part 2
Part 3
Part 4
Part 5
Part 6
Part 7
Christmas Lights!
(Quiltmaker Magazine Re-do!)
Part 1
Part 2
Part 3
Quilts Journeys:


Dear Jane
Dear Jane at Sea
DJ Storm at Sea Sashings
Hexagon Medallion
Nearly Insane
Scrap Quilt Patterns:


Basket-weave Strings
B
oxy Stars
Bricks & Stepping Stones
Cathedral Stars
Cheddar Bow-ties!
Chunky Churndashes
Crayon Box
Crumbs, Crumbs Crumbs!
Crumb Hearts!
Diamond Strings
Florabunda
Four-Patch & Furrows
Fourth of July

Fun With Bricks
Guilford County Block
Happy Scrappy Houses
Hidden Pinwheels
Hidden Spools
I Spy A Four Patch
Jared Takes A Wife
Little Monkey
Kiss in the Corner

Maverick Stars
Millennium Pyramids
My Blue Heaven
Nine Patch Split
Ocean Waves
Ohio Stars & Rails
Oklahoma Backroads
Out On A String!
Patches & Pinwheels
Pineapple Blossom
Pioneer Braid Borders
Playing With Jacks
Princess Crown
Random Ohio Stars
Road To Camp Gravatt
Scrappy Bargello
Scrappy Mountain Majesties
Scrappy Trips Around World
Simply Strippy
Sister's Choice
Smokey Mountain Stars
Spiderweb
Spoolin' Around Blocks
Star Struck
Story-Time Stars
Streak of Sunshine
String Quilting Primer
String-X
Strip Twist
Trip Around The World
Weed Whacker!
---
Quiltville Custom Quilting
http://www.quiltville.com
---
Maverick Stars!!
(Click here for printer friendly version)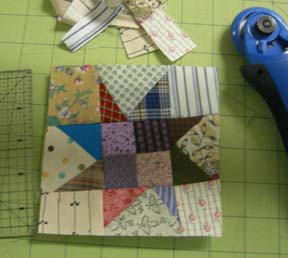 Use your meagerest of crumbs to make one-of-a-kind template free star blocks!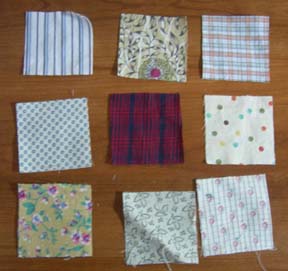 I've been a fan of Gwen Marston and her methods of liberated quiltmaking for years and years! This love of "all things wonky" inspired the way I do these little stars.
These fun and scrappy stars start out as a basic 9-patch formation! I have here 8 neutral 2.5" squares, and one red center square, all pulled from my scrap 2.5" squares bins. Laying your fabrics in this way will help you remember what goes where! The 4 corner neutral squares are the block corners. The 4 side squares are the foundations for adding your star points!

What I love about making these is that I don't have to pre-cut anything. Just grab the crumbs and sew! These stars are perfect for using all those triangles you snip off from joining lengths of binding or borders on the diagonal. You can do all matching star points if you want or do them in two alternating colors, or all scrappy and random as above!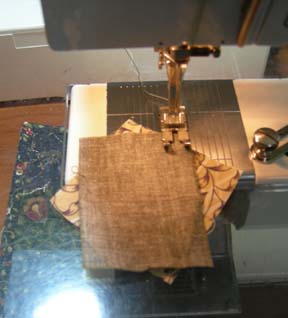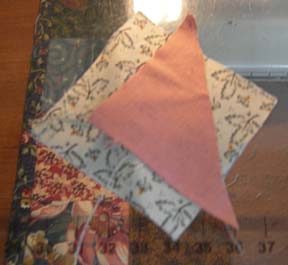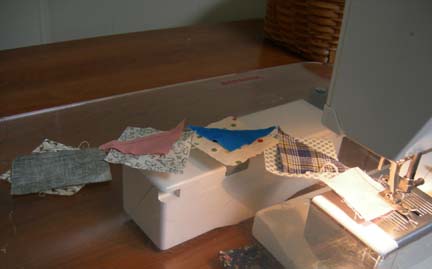 Because I like to chain piece, I sew on all four foundation squares at once! Grab your first square and lay a crumb across one corner at an angle. It can be tall and skinny star point, short and fat or anywhere in between! The one thing you need to watch for is being sure you have enough fabric to cover the foundation when you flip the star point outwards. THINK BIG...it's easy to trim off, but frustrating to not have enough. The second pic shows a leftover triangle from binding joints! I just randomly place them on the foundation squares and sew..a pefect 1/4" seam isn't even necessary. Sew all four as shown...and if you are using leaders/enders to begin and end your piecing, now is where you will sew two of them through, leaving them under the presser foot. Snip the threads between the leader/ender squares, freeing the star point squares.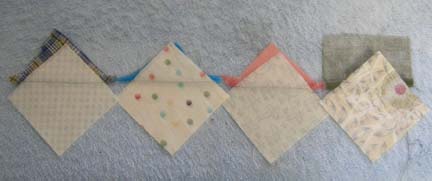 Pardon my slightly blurry pics!
One hint or help for you! I use a June Taylor pressing/cutting mat next to my machine when working on blocks like this. I have replaced them in the past finding that the canvas cover doesn't hold up well to lots of ironing. After a time it gets stained and dirty, and eventually disintegrates. I took an old cotton towel, and wrapped it around my June Tayor board! Now I can remove the towel and wash it when it gets yucky, and the towel really gives a nice pressing surface.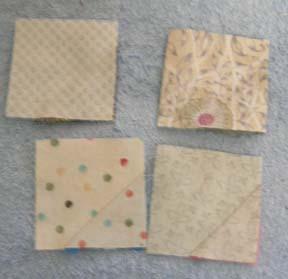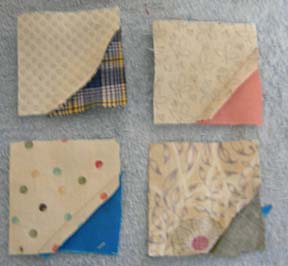 Take your scissors and trim the excess star point fabric even with the foundation square. Then carefully trim away the excess layer of foundation square. You really don't want the extra thickness behind the star points when working with units this size.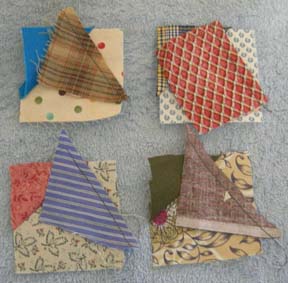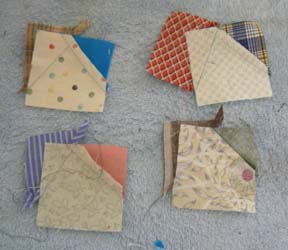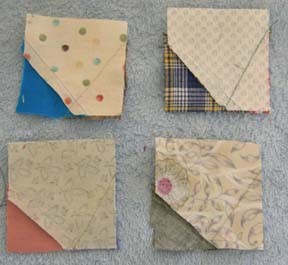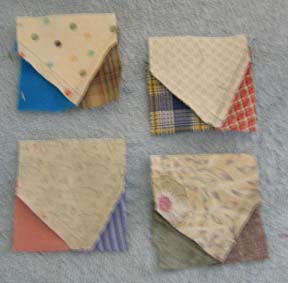 Follow the same proceedure for adding the star points to the other side of the square. I do these "BLIND" meaning, I don't pay attention to the height or the width, I just lay the scrap on there and check to see that the placement gives me enough of the star point to fold back after sewing and cover the foundation square. Continuously sew all 4 star points to their squares. Press Open. Trim the exess star point along the edge of the squares. Trim excess foundation square fabric away from the star points.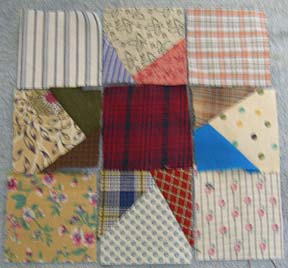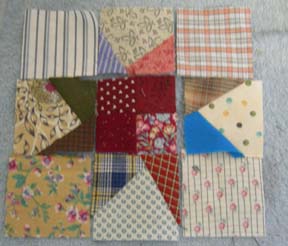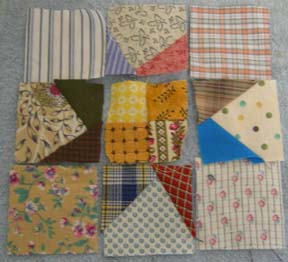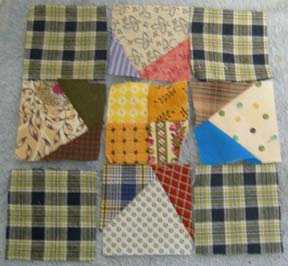 This is where you can play! Try different center squares to find one you really like! Or try leftover parts of other projects! I have a bin of 4 patches that I had intended to make a WHOLE QUILT out of. Well, the quilt never got made, but I have used these 4 patches as cornerstones in lots of quilts. They finish at 2" so they are perfect for crumby star centers!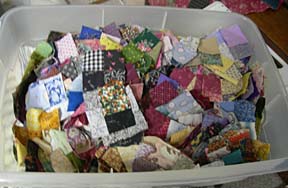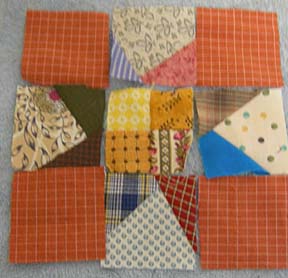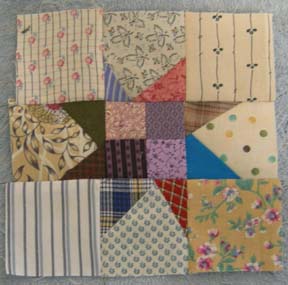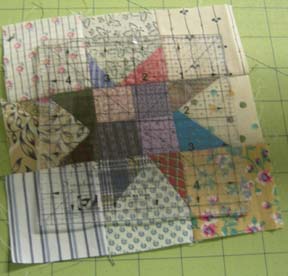 Play with the corner fabrics too for different looks! Try them ALL scrappy, ALL one fabric, or all one stand-out color! For this sample I stayed with the neutrals. Simply sew the units together as if you were sewing a simple 9 patch. Sew the units into rows, and sew the rows together to make the block. These are funky stars! You don't even have to worry about matching seams or being sure that the points aren't chopped off.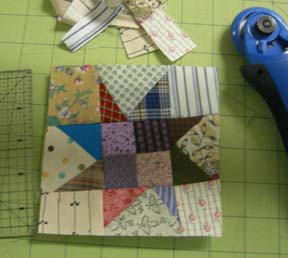 If you leave the block as is...it will finish at 6". There is lots of room to play if you want to make it more wonky! Above I took my Dear Jane 5" square ruler and angled it on top of the star. I trimed the star to this size! FUN!! There are no rules to these crumby stars, you are only as limited as your imagination!

---