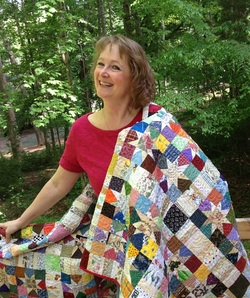 Hi! My name is Bonnie K Hunter, and I am a Quiltaholic! Not a day goes by that I am not dreaming, plotting, planning, cutting, stitching ((and un-stitching!)) on SOMETHING Quilt-Related!

I am honored and blessed to share my love of scrappy quilts through traveling this wonderful world of ours --visiting quilt guilds and shops and giving lectures & workshops, wherever they may be.
Visit my Calendar and you just might find me appearing somewhere near! I'd love to meet you!
Take some time exploring the website. You'll find lots of tips & techniques, and many free scrap patterns to help you put that precious stash to good use! If you like what you find in the free-stuff, check out my Books!
I enjoy writing a regular column for Quiltmaker Magazine called "Addicted To Scraps", helping and hopefully inspiring you to put your own Scrap User's System to work to create more quilts in less time!
I'm busy in blogland and on facebook--I just love being connected to Quilters! Visit my Blog to keep up with my doings! We've got free tips, techniques and patterns running over there too! Not to mention recipes and other good stuff.
NEW! Quiltvillle's Open Studio for Facebook! a place to Sew, Share & Grow! Feel free to share photos of whatever project you are working on! Ask questions, leave answers for others -- treat this group as our Online guild! Please SHARE and INVITE all your quilting friends to join us!
Quiltville's Quilt Cam! I've installed a Live Quilt-Cam in my studio! Occasionally I will turn it on when sewing at the machine so you can sew along with me! Check it out HERE! You will find the archives listed for your viewing pleasure!
---
---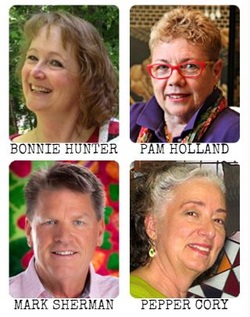 Craftours Cocoon!
Don't like to cruise? Don't like over-seas flights? Come join me in an exclusive Craftours Event --A Stateside Stay-cation April 3-7, 2016 in Naperville, Illinois!
The cocoon starts on a Sunday night and continues through the week until Thursday evening. We will feature four "master" instructors for each cocoon event, and the week will be filled with an extraordinary opportunity to participate in something very, very special.
Our Craftours Cocoon™ will not only offer four master workshops taught by incredibly talented instructors, but you can also enjoy informative presentations & lectures, exhibits, shopping, receive special gifts, participate in fun & games, and have a chance to win some free trips. The event will also feature the use of brand new Janome sewing machines, and include four nights accommodations at the Chicago Marriott Naperville, daily breakfast, two special dinners, and more!
The fabulous price of this 4 day retreat including all instruction, lectures, presentations and lodging? $889.00 per person! This event is bound to fill up quickly at this price. Payment in full due at sign up.
Space is limited and based on first come-first served. Single rooms are available for an additional $325.00pp.
EXTEND YOUR TOUR
Our cocoon takes place just prior to the Quilt Festival in Rosemont, Illinois (April 7 - 9, 2016), if you would like to be able to enjoy the Quilt Festival, you can extend your stay up to 3 additional nights for the incredible price of $92 per person, per night. These additional nights include taxes and breakfast each day.
Click
HERE
for more info!
---
---
---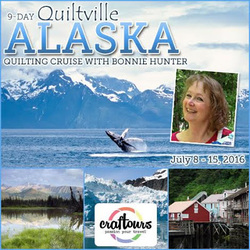 July 8-15, 2016!
Join me for a cruise to Alaska with Sew Many Places and Craftours in 2016!
In July of 2016 I am traveling with Jim West and
Craftours.com
on an amazing Alaskan adventure you won't want to miss!
I have also added an Alaska 2016 tab to the top of the blog so you can come back to this info. Feel free to send the link to your friends who may want to travel with you!
We are sailing out of Seattle with stops in Juneau, Skagway, Tracy Arm and beautiful Victoria, BC Canada!
Click
HERE
for more info!
---
---
August 18-30, 2016!
Join me as we cruise the Mediterranean!
On THIS CRUISE we will be spending 13 days – 12 nights – getting to see all of those fabulous places that are STILL on my bucket lst!
We Start in Barcelona, Spain with ports of call in Koto, Montenegro, Spit, Croatia and the Amalfi Coast, Venice, Rome, Florence & Pisa Italy, and Provence, France!
And yes, because it is a CRUISE, there will be days at sea – with sewing machines and a project involved. It's the best of both worlds.
Click
HERE
for more info!
---
---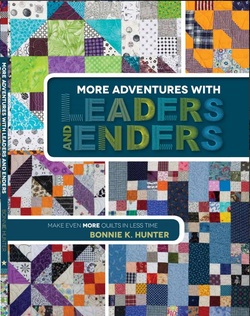 EXCITING NEWS! Our Newest Book Release: MORE Adventures with Leaders & Enders!

Click HERE to view all 12 quilts included in the book.

Click the SHOP tab at the top of the page to place your order Today!

Did you know that all orders of $75.00 or more ship FREE within the USA?!Click HERE to preview all of the quilts in all of my books!
---