These fun house blocks finish at 7.5" square (before triangle sashings) and are made completely from 2" strips,bricks and scrap squares!
General Supplies needed:
Sewing machine in working order (including power cords and extention cords)
Thread, scissors, seam ripper,pins and any other notions you usually sew with.
Rotory cutter, mat and ruler.
Fabric supplies:
There are 42 Houses in this wonderfully fun scrap quilt!
For each house block you will need:
Roof: (1) 2"X 8" rectangle
House: (1) 2"X8" rectangle
(3) 2"X3.5" rectangles
(1) 2" square
Door: (1) 2"X3.5" rectangle
Window: (1) 2" square
Chimneys: (2) 2" squares
Background: (5) neutral squares
For the wonky setting triangles for each house you will need:
(2) 3"X12" rectangles!
To make this extra simple for our class, Simply bring 2" strips of fabrics you want to use for the house, sky, chimneys, windows and doors! All pieces can be cut from 2" strips! If you have scrap 2" squares and 2"X3.5" bricks on hand (if you are scrap user's fan, you know about these) bring them! It is fun to swap fabrics with each other and make each house unique!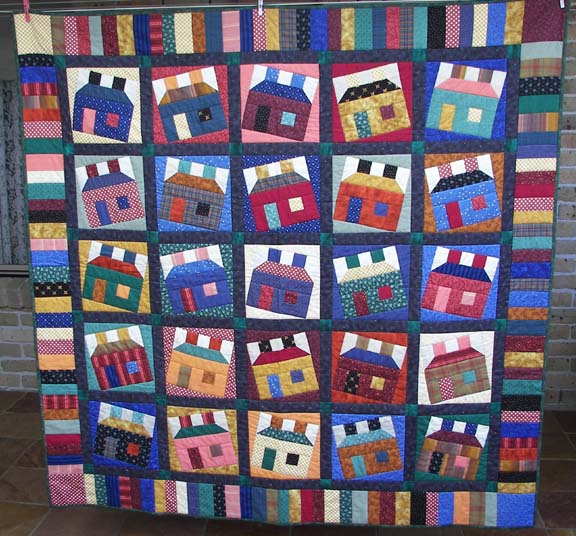 If you have any questions about the supply list or instructions, please don't hesitate to call me at (336)749-3202 or email me at
quiltville@gmail.com

!
I really look forward to this workshop with you!
Bonnie