Don't you just love strip piecing? This part goes REALLY fast. And because the pieces are small, even those fabric scraps you didn't think you liked any more work really well. Along with my civil-war type shirtings, I dug through my other 1.5" light strips, throwing in plaids, stripes, small calicos from1990-something and mixing them all in together. As long as the background was either white, cream or beige...it went in there. The important thing is the value. These are lights. These are neutrals. The same with my pinks. I used many reproduction double pinks,but you know what? Those old mauve prints from the 1990s worked great in with those too! So don't forget to check your closet, and FQ drawers for those old mauve-pink prints. Throw them in.
Since this all came from random lengths of strips, I'm going to list the cutting directions as if you were cutting from full width of fabric yardage, based on fabric being 40" wide. You will need the equivalent in scraps, but the number of strips you cut from your scraps may vary depending on the length of your strip. This is just a guideline. You may need a bit more, or a bit less.
From lights cut:
20 strips 1.5" X width of fabric
or the equivalent in scraps.
From pinks cut:
25 strips 1.5" X width of fabric
or the equivalent in scraps.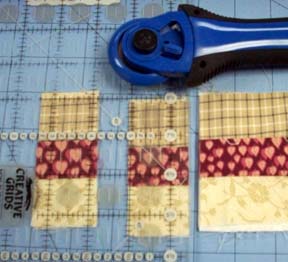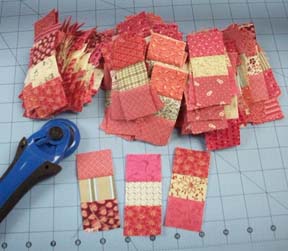 I worked on both of these together. It just seemed easier to sew half of the lights and pinks together, press them towards the pink, and then add either the other light to the group of 2-A sets, or the other pink to the group of 2-B sets.
Of course we are making 9 patches!! Aren't they cute? The light/pink/light sections are the center sections of the 9 patch. The pink/light/pink you will need twice as many of because they go on either side of the light/pink/light sections.
How many 9 patches? 130!
How many light/pink/light (2-A?) do you need? 130!
How many pink/light/pink (2-B?) do you need? 260!
Sew your strip sets, pressing seams towards the pink fabric. Subcut into 1.5" sections.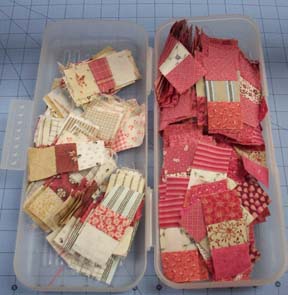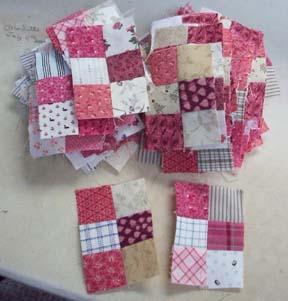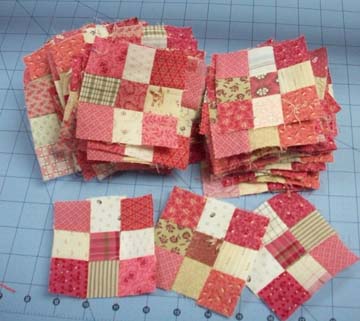 I never get tired of little 9 patches. I think that they always turn out so cute! Look closely..can you see how I've mixed in some of the non-reproduction pinky mauves with the double pinks? It gives me more shading in my blocks, and I think it adds more depth and interest when all the pinks are not exactly the same shade. Your 9 patches will finish at 3" which means they are 3.5" unfinished.

And while you are at it...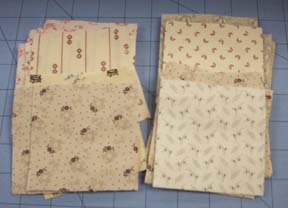 From your lights cut:
80 3.5" squares