Students: Please print out your instructions for the quilt ahead of time HERE:
http://quiltville.com/pdf/cathedralstarspf.pdf
You are responsible for bringing your own instructions to class.
The objective in this workshop is for students to learn the basics, and the fun and freedom of using the EZ angle ruler, and the Tri Rec Rulers. Rulers are required for class participation and can be ordered online, or bought through many fabric places such as Joann's with a coupon. New quilters will also learn some basics of strip piecing and chain piecing.
This quilt is perfect to learn how to use the specialty rulers I love and use so much in my scrap quilting!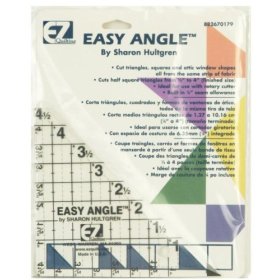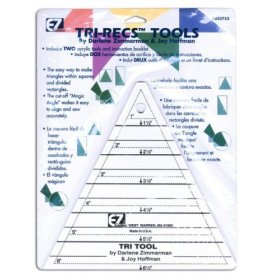 Tri Recs Rulers
These rulers make cutting the long skinny star points and tall triangles a breeze! The rulers are notched so the pieces line up perfectly. The seam allowance is already added to the ruler, so you cut your triangles based on the unfinished size of the unit. If I wanted my square to finish at 3", (two star points and one big triangle make a square unit) I would be able to cut all pieces from 3.5" strips! Since this is a strip size I use in my scrap quilting alot, these rulers really come in handy.
The Easy Angle Ruler
I use this ruler to cut 1/2 sq triangles from strips without having to add that 7/8" to the finished size! You just add 1/2" to the finished size to cut your strip, and the rest of the math is added in for you on the angled side. Cut matched sets with your strips right sides together and you are ready to just feed the 1/2 sq triangle pairs through your machine. This works GREAT with my scrap strips, because I don't have that 7/8" to worry about. It works with the sizes of strips I have already cut. Note...the ruler shown is the 4 1/2" Easy Angle. It also comes in other sizes such as 6.5" and 12.5" and ALL RULERS will work with this quilt. I use the 6.5" one the most in my quilt making.
Fabric Requirements:
I made this as a scrap quilt, so a large variety of fabrics is shown. There will be some pre cutting of strips for the units,but we will leave the cutting with the rulers themselves in class. You just need to come wtih the strips cut.
You will need approximately:
3 yards of assorted light fabrics
2 yards of assorted brights (4 patches)
2 yards royal blue (star points and outer border)
2 yards black (mine was a solid black)
2 yards red (this was a tone on tone black on a red ground)
You may decide when your quilt is done that you want to use a different combination of fabrics for the border.
The quilt shown uses 305 4 patches! I know that sounds like a lot, but strip piecing and chain piecing make it easy. We won't get the whole quilt pieced in a day, so what I want you to do is bring your fabrics, with SOME of them cut into 2" strips so that we can at least start to sew these and get the process down
To give us enough to start sewing, please cut (12) 2"strips from your assorted light fabrics and (12) strips from your assorted brights. You will need more, but this will get us started!
From your red and black fabrics cut: 6 strips from each at 3.5" wide. You will need more, but this is enough to get us started.
From your royal blue, cut 6 strips also at 3.5" wide. Again, more will be needed, but this is good to get us going!
From your assorted light fabrics, cut 6 strips 3.5" wide for the background of the star points. More will be needed, but this is good to get started!
Please come to class with this amount of strips cut and ready to sew. You don't want to be left behind if you just show up with a pile of unironed uncut fabric :c)