Quiltville Custom Quilting
http://www.quiltville.com
---
Bricks In The Barnyard
Class Supply List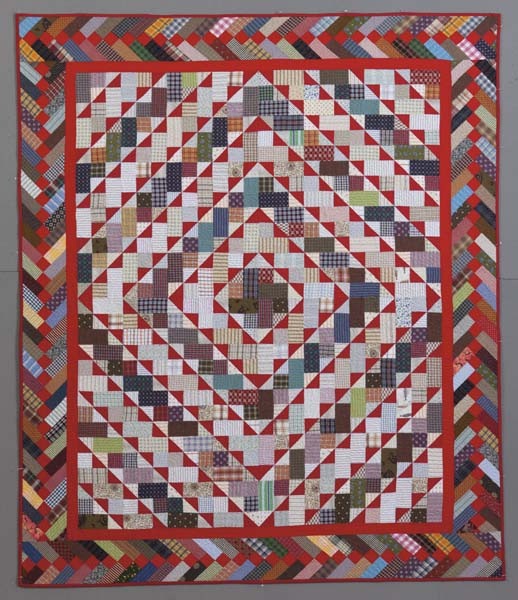 Bricks in the Barnyard

Finished block size: 6"
Finished quilt size: Approximately 62.5" X 75.5"
Simple shapes such as bricks, squares, triangles combine in a dynamic design perfect for using up the leftovers from other projects! I find myself time and time again gravitating toward bold colors to mix with my recycled fabrics and scraps in the time honored tradition of mixing solids, prints, stripes and plaids together. Solid fabrics pack a lot of punch! In this case, the red just glows with warmth against the myriad of other cherished recycled pieces.
Pieced braids are a fun way to frame a quilt, and I love how the scraps seem to flow in motion around the outside edge like arrows. No mitering, no centering, the braids are built simply until they are "long enough" and cut where needed to fit. It's a perfect relaxed solution with no stress required!

This is a "book required" class. The pattern can be found in my book Scraps & Shirttails II, and may be ordered from my website at http://quiltville.com. Books will also be available for purchase during class.

In addition to basic class supplies such as machine, 1/4" foot, thread, needles, pins, scissors, seam ripper, rotary cutter, mat and ruler, students will need to bring an Easy Angle ruler for learning to do half square triangles using specialty rulers.

Fabric requirements
For blocks and outer border
3 1/2 yards assorted dark fabrics
3 1/2 yards assorted light fabrics
For accent and inner border
2 1/2 yards solid red

Workshop Pre-Cutting:

Bring scrap fabrics cut into 2.5" strips, or if you desire, pre-cut SOME scraps ahead of time into 2.5" squares and 2.5" X 4.5" bricks for the main parts of the blocks, leaving SOME fabric in 2.5" strips of neutral and red (or whatever your accent fabric is) for cutting with the easy angle ruler during class for half square triangles found in each block. You will need an equal amount in both background neutrals and darker colors. These are common sizes I always keep on hand! If you come with a variety of lights and darks cut into squares and bricks, it will be enough to get you started, and we can cut more from strips as the class progresses.

Cornerstone Braid Border:

Bring a large assortment of 2" X 5" rectangles in colors of your choice. These can be cut from the scraps included in the yardage above. I just went to my 2" strip bin and stacked them and cut them at 5" intervals. It helps to have these cut before class. The number of strips you need varies depending on the size of the quilt you intend to make. Just bring a good sized stack, about 200 rectangles is enough to get you started!

Cornerstones:
The amount will vary depending on the size of quilt you intend to make. The braid border is optional! I suggest pre-cutting 100 2" squares from your accent fabric before coming to class. You can cut more as needed.

Special Rulers: This quilt uses the Easy Angle ruler for the 1/2 square triangles. This is a fantastic tool that has improved my quilt making by leaps and bounds! EZ quilting makes the Easy Angle, but there are other brands out there, omni grid, fons & porter, etc..all have one made for 1/2 square triangles. If you have this ruler and have never learned to use it, now is the time!
I look forward to scrappy fun with your guild for this workshop!
---